■Tuition
JPY 12,000 (tax included)per person
(includes Japanese fan "Sensu" and classic Japanese letter paper)
*Option to study additional 1h Original Hanko (Red Seal rubber stamp) + JPY 4,000
→ More info

Calligraphy Kyoto is the only calligraphy facility in Kyoto where you can receive direct guidance
from calligrapher.
Calligraphy meditation or mindfulness is effective for unifying our mind.

Kana Symbols is the term for the two common Japanese syllabaries: hiragana and katakana. Each
of the 71 symbols is phonetic, represents a syllable, and doesn't have a specific meaning. Highly
cursive, kana employs kanji and an obsolete form of writing known as hentaigana.
You will write a traditional poem【 iroha-uta/いろは歌 】 on a Japanese fan "Sensu".
You will use a special small brush.
It's the coolest souvenir of your time in Kyoto!
書道をより深く本格的に学びたい人向けです。
仮名(かな)は、漢字を基にして日本で作られた文字で、このコースは、小筆で 【 いろ
は歌 】書きます。練習後に、扇子に書いて仕上げます。また、巻紙に自国語で手紙を書
き、旅の思い出としてお持ち帰り頂けます。
Course Description
1) Explanation of the history of Calligraphy (Shodō) and the origins of written Japanese.
Lean the origins of Hiragana and Katakana. Shodō is a traditional culture with an intimate
connection to everyday life.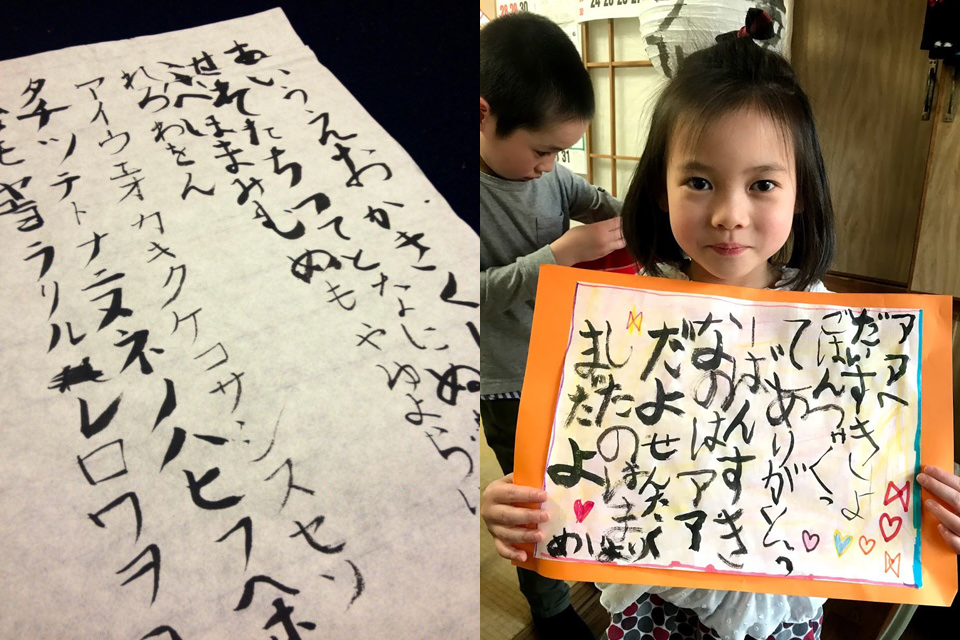 2) Explanation of Shodō tools, sumi ink preparation and how to hold the brush (fude).
Calm your mind while preparing sumi ink. As with Zen, this is a time of meditation, to face
inwards.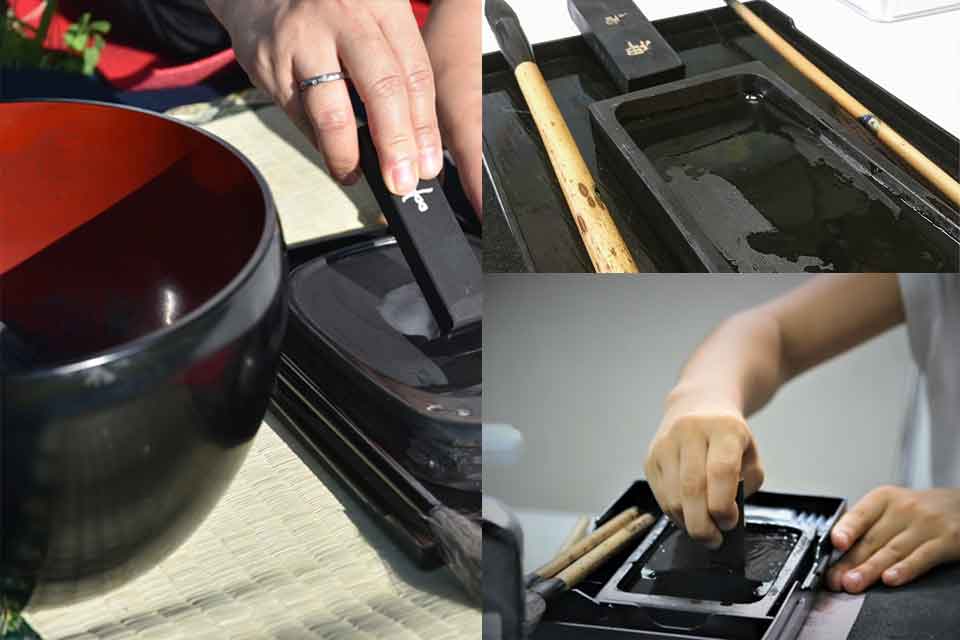 3) Learn and practice the basic lines. Master how to handle the brush as we practice the basics.
It is important to handle the amount of ink, not too much and not too little.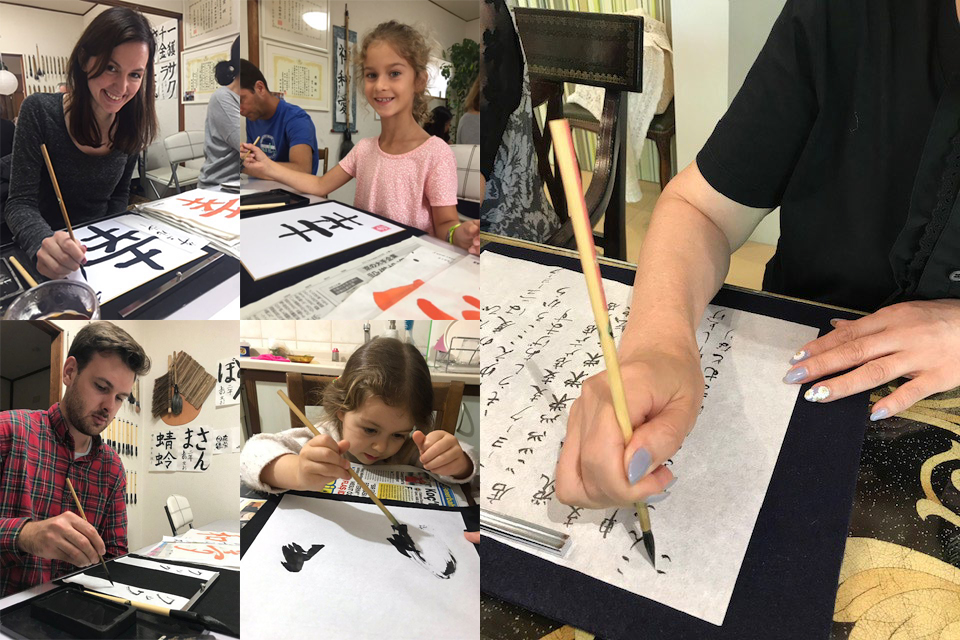 4) Let's write 【 iroha-uta/いろは歌 】
With your preferred hand, take the brush and hold it vertically.
With your other hand hold down the paper (washi).
Consider where to place powerful strokes, where to carry the line through, the balance of your
work, brush handling, the shade of the ink and the beauty of the layout.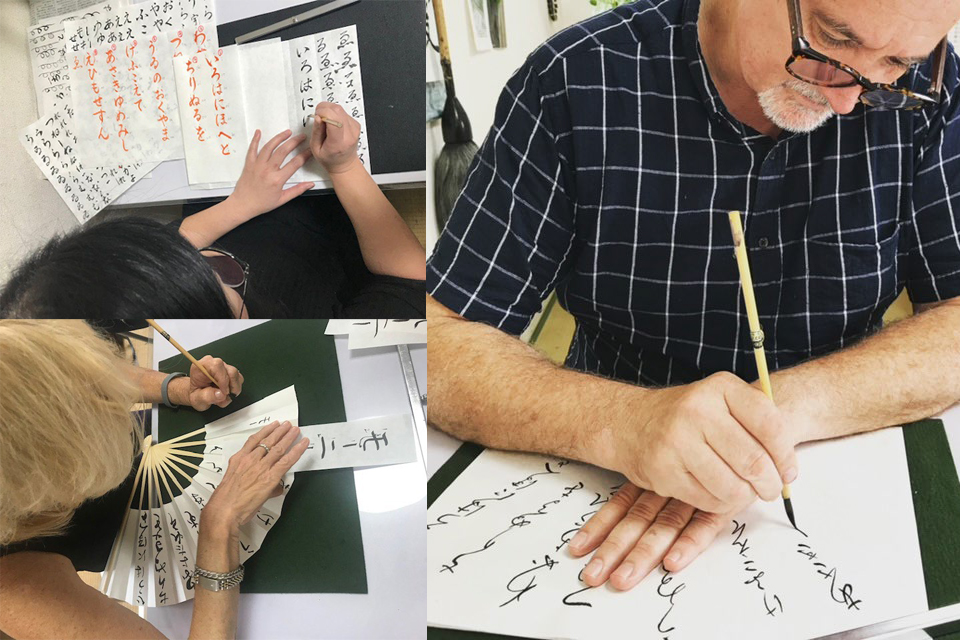 5) Now we can face the challenge of writing a【 iroha-uta/いろは歌 】 on a Japanese fan
"Sensu" (45cm x 27cm)
Let's write with a calm heart.
Mounted as a traditional-style Japanese fan "Sensu"it is even more beautiful. Please decorate
your home with it and enjoy it for many years to come.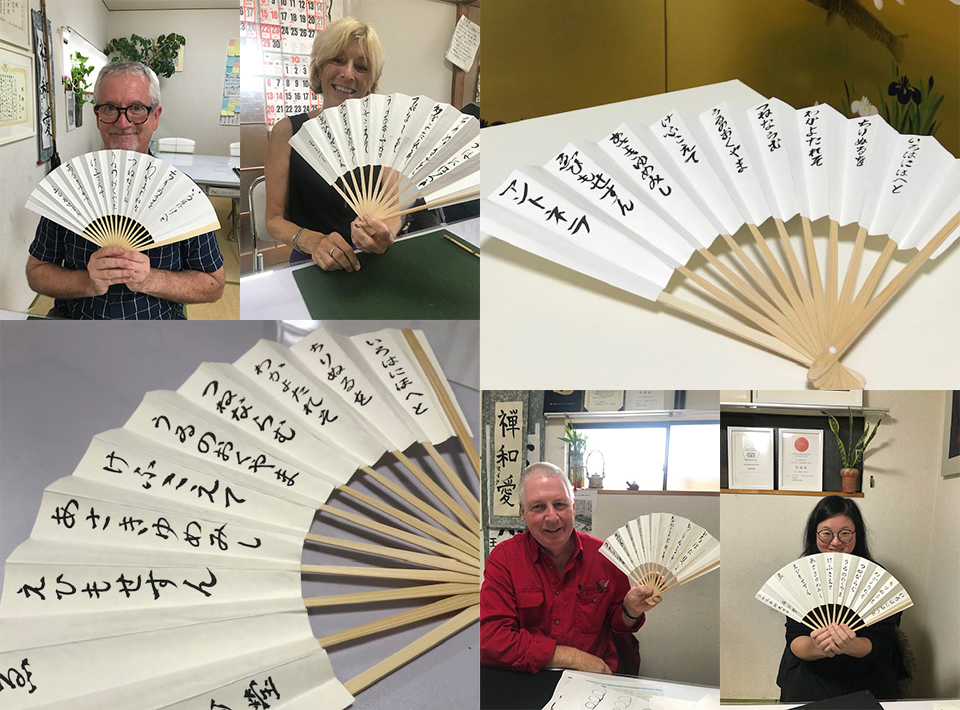 【 iroha-uta/いろは歌 】
The lyrics are written probably in Heian period, which is famous of using all Japanese
syllabaries/writing systems without repeating the same. Iroha-uta has been as well used for
teaching and counting Japanese alphabets for so long.
▼ Modern translation
いろはにほへと/iro-ha-ni-ho-he-to 
ちりぬるを/chi-ri-nu-ru-o
わかよたれそ/wa-ka-yo-ta-re-so
つねならむ/tsu-ne-na-ra-mu
うゐのおくやま/u-i-no-o-ku-ya-ma
けふこえて/ke-fu-ko-e-te
あさきゆめみし/a-sa-ki-yu-me-mi-shi
ゑひもせすん/e-hi-mo-se-su-n
▼ Ancient translation
色は匂へど 散りぬるを
我が世誰(たれ)ぞ 常ならむ
有為(うゐ)の奥山 今日(けふ)越えて
浅き夢見じ 酔(ゑ)ひもせず
*If you have any problems or have any questions, Please feel free to call or mail us with any
questions you may have. I'll do my best for you.